Canadian CYC Delegate Blog Corner

I am Leah Davidson, one of the Canadian Commonwealth National Youth Delegates, bringing a youth voice to Commonwealth issues and international events. This series of articles will cover people who work on Commonwealth issues and for Commonwealth organizations, with the goal of unpacking Commonwealth values and their relevance to young people.
The Trinbago 2023 Commonwealth Youth Games (CYG) is an international athletic event with entries from 1000+ athletes and para athletes ages 14-18. This year's Games will be hosted in Trinidad and Tobago from August 4-11, 2023. Canada is sending 74 athletes and staff to compete in the sports of Athletics, Beach Volleyball, Netball, and Rugby.
In Beach Volleyball, Canada is sending one team for each gender, selected from across Canada, to compete in the beach volleyball tournaments from August 5-10. The team is led by Coach Andy Kos. Today we will meet some of Canada's rising stars in beach volleyball.
---
Hailing from Ajax, Ontario, Andon Kiriakou currently plays for Team Canada on the beach volleyball team and previously played locally for the Durham Attack Volleyball Club. A recent high school graduate, he will be attending UC Irvine (California, USA) in the fall, playing D1 volleyball on their varsity team and hopes to study business administration or business economics.
He started playing soccer and hockey as a child, and his dad, who played volleyball himself, sparked Andon's interest in the sport of volleyball. Andon explained,
A few buddies, who played indoor [volleyball], invited me to the beach to play one day. I went every weekend after that, and for the next 4-5 summers.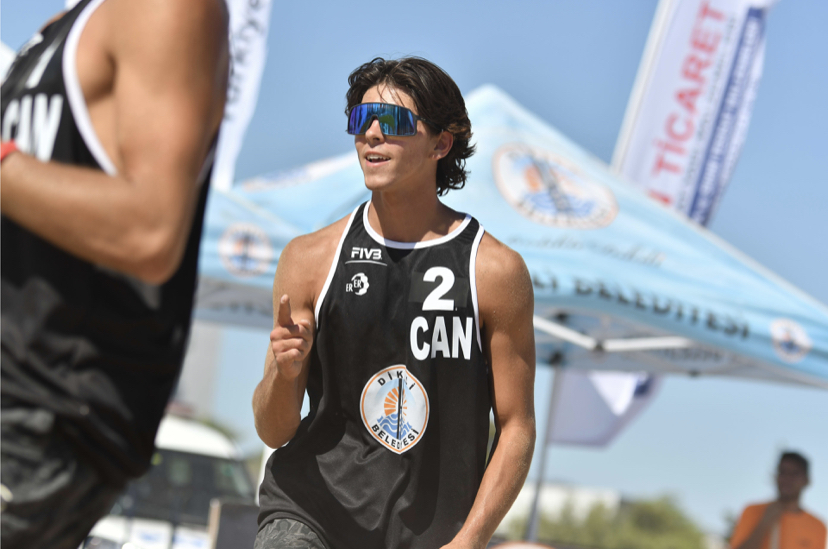 When asked about the differences between indoor and beach volleyball, Andon described,
Indoor is more of a team sport. You have to worry about 5-6 other people, while beach volleyball is more independent, even though you have a partner. You get to be more creative because you're touching a ball every single play.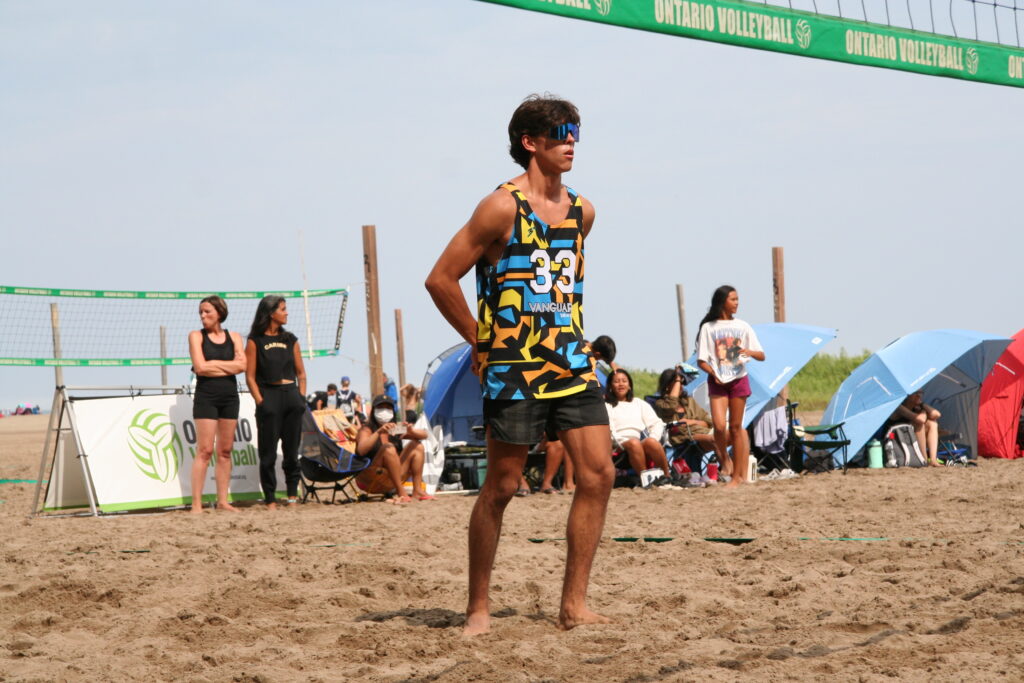 He chose his partner Oliver Toomes for the trials and they have been playing together for one year. He said,
We didn't know what to expect going into trials, since it's 18U, which is everyone our age. We were pretty confident going in, but it was a bit rocky. When we got into the semi-finals, we had a tough third-set match, but then were able to pull through in the finals.
This is not his first international competition, as he represented Canada at the U19 World Championships in Turkey. "[The U19 Worlds] was a unique experience meeting people from all the different countries," said Andon, who enjoyed the off-game time of getting to know the players and cultural differences. 
[At the Commonwealth Youth Games in Tobago], I'm most looking forward to playing good volleyball and trying our best to win,
said Andon. He has been practicing at least 4-5 times a week, Monday to Friday, and playing tournaments each weekend, in preparation for the Games. Training with the NextGen team, where he is one of the youngest players, is pushing him to play at a higher level. 
Andon's dream is to turn pro eventually. He explained, "After this, I will be preparing for the indoor season [at UC Irvine]. I'm really looking forward to it, since I will be there for four years. I think the physicality will be a lot different, since people are 3-4 years older, so I am prepared for it to be more competitive. I definitely need to work hard for that."
One of his favorite sports memories is attending Camp Madawaska, a 7-day residential volleyball camp on the Madawaska River in Ontario, which encourages team bonding and collaboration. He said, "Everyone meets for 'togetherness' in the morning and you're always eating and playing together. I love just hanging out with friends and playing volleyball." 
For young athletes hoping to get recruited for varsity scholarships and compete internationally, he would encourage continuous practice and game-time.
Be consistent with your training and stay physically strong, as the level only gets harder as you get older,
advised Andon.
My dad also taught me to always stay humble.