Canadian CYC Delegate Blog Corner

I am Leah Davidson, one of the Canadian Commonwealth National Youth Delegates, bringing a youth voice to Commonwealth issues and international events. This series of articles will cover people who work on Commonwealth issues and for Commonwealth organizations, with the goal of unpacking Commonwealth values and their relevance to young people. I chose to write this article because many people know of the Commonwealth Games, but are unaware of the people and powerful mission behind our Canadian organization.
---
What started as a youthful love of sports – as a varsity rugby and football player for the University of Guelph – led to a lifetime career in sports for CEO of Commonwealth Sport Canada (CSC Canada) Brian MacPherson. He is a veteran of single-sport and multi-sport organizations, as former Executive Director at the Federation of Canadian Archers and Water Ski and Wakeboard Canada and former COO of the Canadian Paralympic Committee (CPC).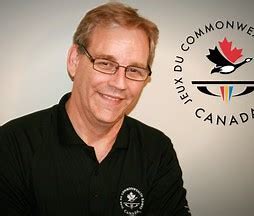 When asked what drew him to Commonwealth sports, MacPherson said,
"I do it for what sport can do for people and communities. It brings people together like no other sector, particularly for youth. Also, I have always had a penchant for getting underrepresented youth into sport, so they can grow as leaders and citizens."
Sports with a Social Purpose
Commonwealth Sport Canada (CSC) is probably most well-known for sending up-and-coming Canadian athletes to the Commonwealth Games every four years – most recently, held in Birmingham, UK from July 28 to August 8, 2022. In addition, Commonwealth Games are unique, in their focus on increasing the representation of women and people with disabilities.
MacPherson explained,
The Commonwealth Games were the first international games to have more women than men medaling events, which fits the Commonwealth value of equality. The Games also value inclusion and introduced Para athletes in 1994 as a demo in Victoria, [British Columbia] and subsequently by 2002 with full-medal status.
In 2018, the Commonwealth Games in Australia became the first global sporting event to introduce a Reconciliation Action Plan (RAP). The focus was in supporting Aboriginal and Torres Strait Islander groups by providing employment and procurement opportunities and respectfully showcasing their arts and culture.
Canada is making progress in these areas, but still has a long way to go to reach true diversity. One proud note was that 28 of the 269 athletes Canada sent to Birmingham were Paralympic athletes, which is representative of the 22% of Canadians who report living with a disability.
One of CSC's newest projects to promote equity and inclusion is their Sport for Newcomers Initiative (S4N). CSC collaborated with the 1,200 accredited local Newcomer Support Services Organizations (NSSOs) across Canada that help immigrants and refugees access shelter, clothing, jobs, and other necessities. In surveying these organizations, CSC was shocked to find less than 23 were using sport as a tool of integration for newcomer youth. MacPherson described, "We embedded sport management graduates into these NSSOs to introduce sports to newcomer youth and make links to the local sports communities, like swimming, basketball, track and field, and soccer clubs. Even once the sport management grads leave after 4-8 months, the links between newcomers and local sports organizations continue to flourish."
A Post-Pandemic Revival
Like many organizations, CSC – and the sports community at large – are still recovering from the aftermath of COVID-19. Social distancing had a big impact on all sports – mostly negative – but also positive, namely in accelerating the incorporation of technology. MacPherson said, "Generally, you need to compete with people face-to-face. Many sports events were outright cancelled or postponed. [One of the innovations] that emerged from the pandemic was "virtual sports." For example, the Union Cycliste Internationale (UCI) Cycling Esports World Championships, where you or I in our own garage could compete in real-time road races against anyone in the world using our bike, a screen, and a special device called Zwift." This form of sport innovation is only the beginning of more possibilities for technology-enabled training and competition for athletes.
Looking ahead for CSC, MacPherson says the organization would love to host another Commonwealth Games in 2030, an opportunity and honor that Canada hasn't received since 1994. A successful bid would be a fitting tribute to the 100 year anniversary of the Commonwealth Games, which were first hosted in 1930 in Hamilton (then named the British Empire Games).
He views hosting the games as an opportunity for more young people to get involved with, and reap the benefits of, athletic engagement:
The younger a person gets into sport, it will start shaping their personality and character – for example, by building confidence and teamwork. Even losing is positive because a person understands there are challenges and you can't always win."
In the meantime, MacPherson and CSC are busy with their other programming, like the Commonwealth Women Coach Internship Program (WCIP) to develop up and coming high performance female coaches; the Canadian Commonwealth Sport Awards, which recognize top athletes, volunteers, and coaches; and S4N, all of which will inspire, encourage, and build a path forward for Canada's next generation of athletes.