Canadian CYC Delegate Blog Corner

I am Leah Davidson, one of the Canadian Commonwealth National Youth Delegates, bringing a youth voice to Commonwealth issues and international events. This series of articles will cover people who work on Commonwealth issues and for Commonwealth organizations, with the goal of unpacking Commonwealth values and their relevance to young people.
---
Hosted during the 2023 Commonwealth Year of the Youth, the Commonwealth Youth Games (CYG) in Trinidad and Tobago marked a number of firsts: the first time the Games have been hosted in the Caribbean and the first time Para-athletics and FAST5 Netball made their debut at this international competition. Initially postponed in 2021 because of COVID-19, the 2023 Games brought together 500+ officials, 1000+ young athletes, and 1600+ volunteers. Canada's team of 74 athletes proudly showed up in red and white, with waving flags, in the sports of Athletics in Trinidad and Beach Volleyball, Rugby Sevens, and FAST5 Netball in Tobago.
A Unique Cultural Heritage on Display at the Opening Ceremony
A true treat for the senses, the Opening Ceremony in Port-of-Spain's Hasely-Crawford Stadium began with a showcase of the Caribbean culture, with colorful Carnival characters, soca music, graceful Indian dancers, and the loveable leather turtleback mascot Cocoyea, drawn by local artist 8-year-old Djibril. It was such a special occasion to witness youth, ages 14 to 18, from the 30+ participating nations walk out proudly with their flags and then to witness the celebration of those flags coming together as one.
Commonwealth Games Federation President Dame Louise Martin took to the podium to address the audience:
[It is] a dream come true, the Commonwealth united through sport…Thank you also for the leadership you have shown in timing and focusing these Games – and indeed this Ceremony – around Emancipation Day. We share your belief that through these Games we can unlock our future potential and acknowledge the wrongs of the past. Athletes, most of all, I truly hope you seize the moment and enjoy this Caribbean carnival of inspiring competition, personal development, and global friendship.
Trindad and Tobago's President Christine Kangaloo concluded the bright and lavish event by officially opening the Games.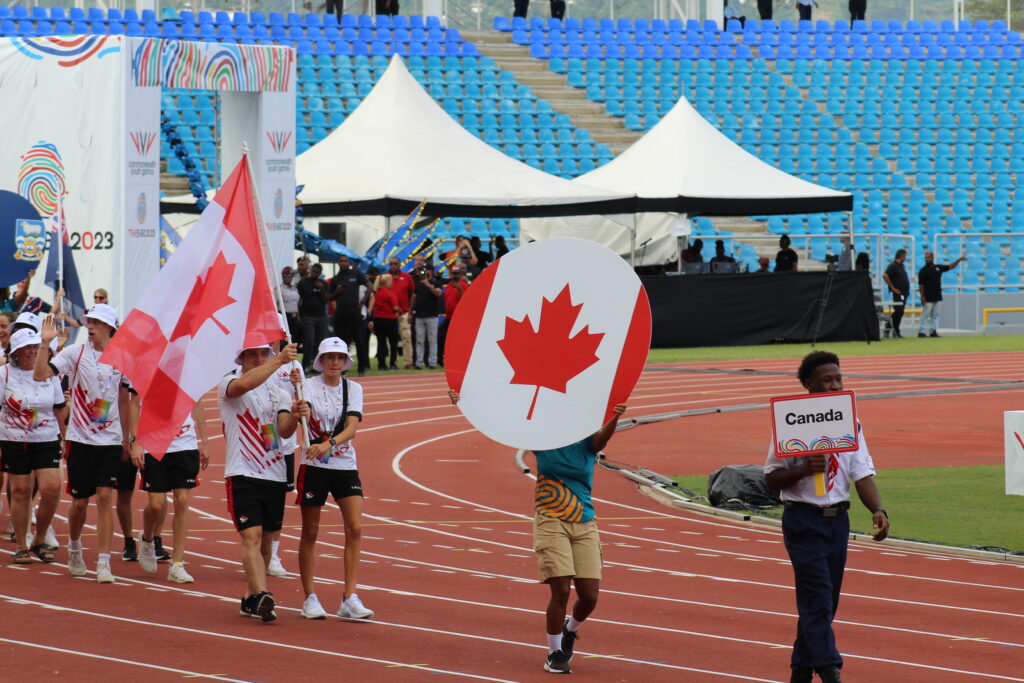 Canadian Women's Team Wins Silver in Rugby Sevens
From August 4 to 11, I had the privilege of attending several games played by the Canadian teams. The Rugby Sevens took place from August 6-8 in the very hot outdoor Shaw Park in Tobago. A very close 19-17 match against Fiji helped put Canada's Women's team in the finals, after victories against Trinidad and Tobago and Wales.
Canada's Women's Team faced a difficult last match against Australia, one of their strongest contenders, and emerged with a silver medal. Parents and coaches rushed out to congratulate them on their silver medal finish, and the Canadian teens huddled for an exuberant team cheer. I caught up briefly to congratulate Olivia Newsome on the sidelines, who expressed pride in her team and happiness with the results. Claire Carver-Dias, President of Commonwealth Sport Canada and former Olympian, handed the young women their gifts.
The Canadian men's rugby team finished fourth.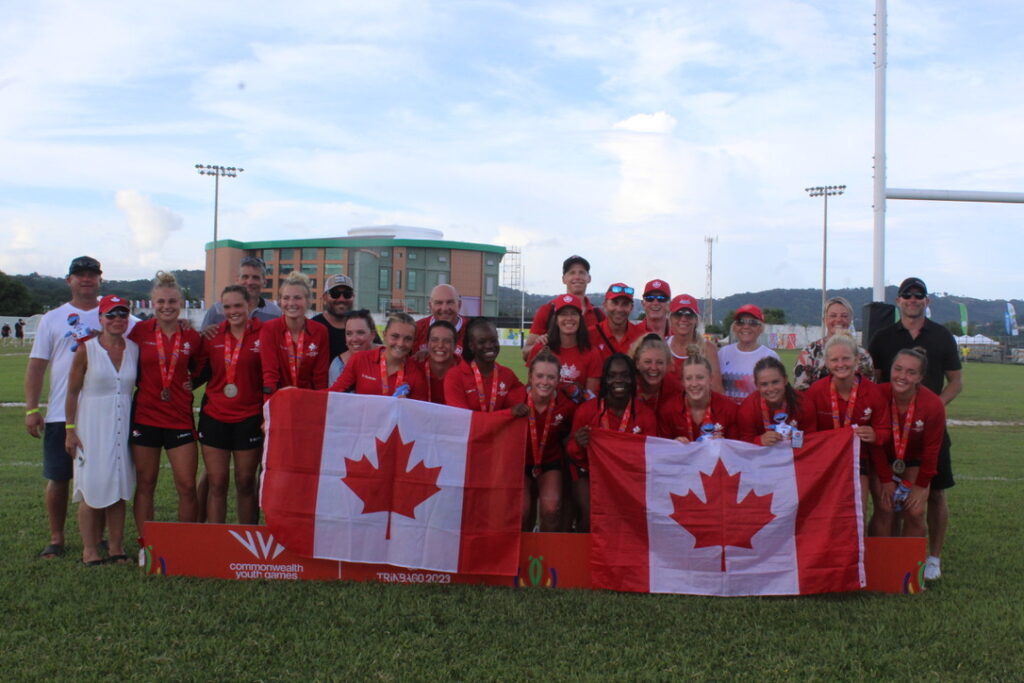 FAST5 Netball Competes in Famous Shaw Park Cultural Center
The next sport on my coverage list, FAST5 Netball, got off to a suspenseful start with Canada's all-female team beating the very enthusiastic host nation of Trinidad and Tobago. After this first game, Loliyo Pione from Canada said, "[Even though the crowd was cheering on the host country], a lot of it was playing our own game. We're always encouraging ourselves." Naomi Khau added, "We knew we had to shut out the environment and focus on our own performance."
Following some tough matches against Scotland and Australia, Canada finished 6th, but worked hard until the very end.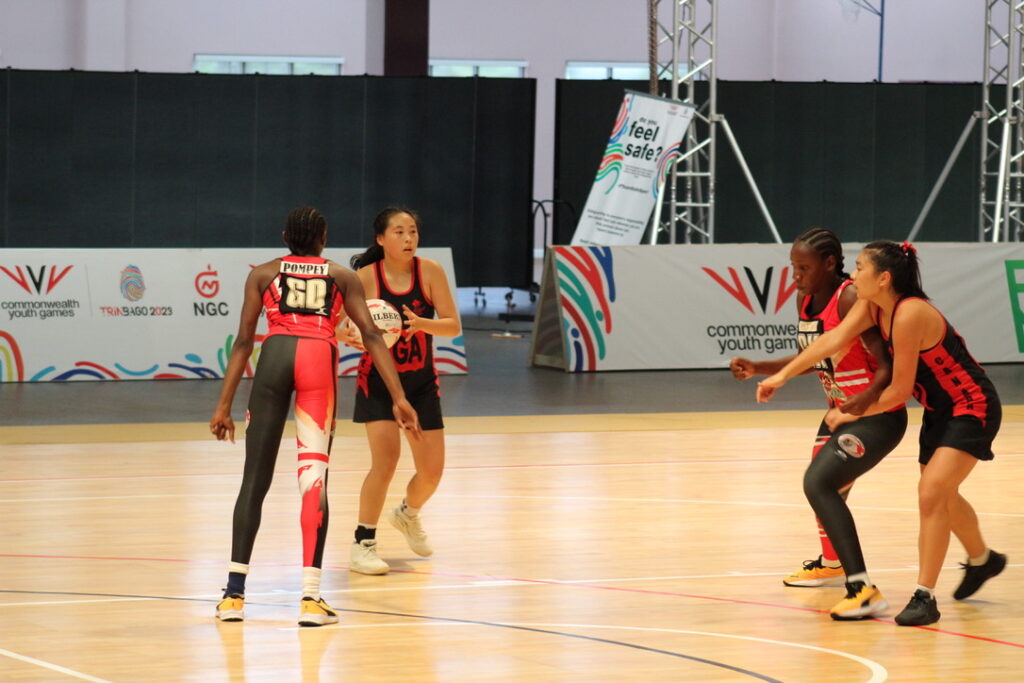 Canada's Beach Volleyball Teams Both Triumph with Gold
Near the beautiful beaches of Black Rock, the beach volleyball matches took place on sand from Guyana, from August 6 to 10, marking one of the longest-running tournaments with 12 teams from all over the Commonwealth.
Beach volleyball went on rain-or-shine, presenting some challenges during the Tobago wet season. Canada's Women's Volleyball team, represented by Calinda Kok and Katerina Drozd, won gold after a very heated match against Australia. Andon Kiriakou and Oliver Toomes from Men's experienced a very close semi-final match against Cyprus, but also managed to squeeze into the finals, and then emerged victorious as well with a gold medal over England.  
"It's been amazing. What great people, weather, and tournament," said Kiriakou after winning gold. "We did what we came here to do. All of Tobago has been so welcoming," echoed Kok.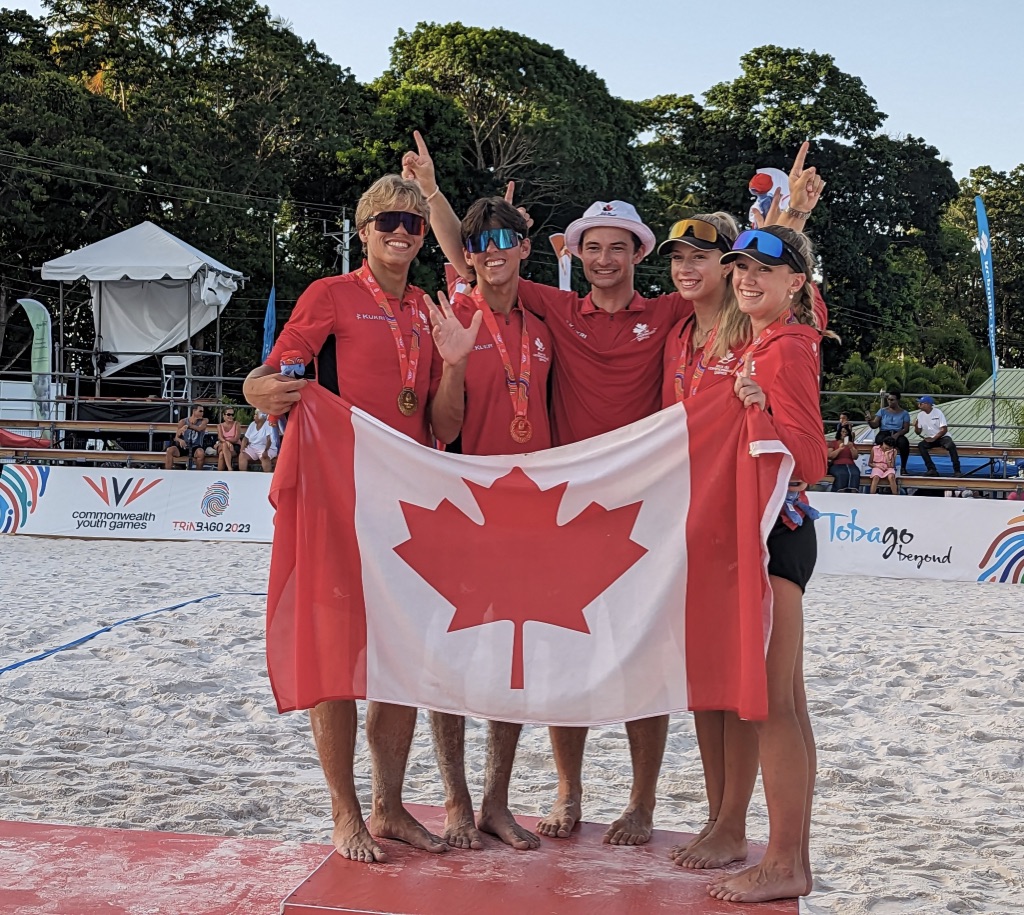 CYG Opens New Doors for Young International Athletes
Participating in the CYG revealed a different cultural side of the Commonwealth, with shared singing of the national anthems and people from around the world coming together to cheer on next-generation athletes, both from the stadiums and on the livestream. Although sometimes overshadowed by the larger Commonwealth Games and other name-brand sporting events, the CYG provided the privilege of witnessing young talent taking on – in many cases – their first international competition. Many of these athletes will surely go on to new feats soon, whether playing on varsity teams in university, joining major leagues or even winning Olympic medals, and to witness their successes early on in their sports career, was an unforgettable delight.