Canadian CYC Delegate Blog Corner

I am Leah Davidson, one of the Canadian Commonwealth National Youth Delegates, bringing a youth voice to Commonwealth issues and international events. This series of articles will cover people who work on Commonwealth issues and for Commonwealth organizations, with the goal of unpacking Commonwealth values and their relevance to young people.
The Trinbago 2023 Commonwealth Youth Games (CYG) is an international athletic event with entries from 1000+ athletes and para athletes ages 14-18. This year's Games will be hosted in Trinidad and Tobago from August 4-11, 2023. Canada is sending 74 athletes and staff to compete in the sports of Athletics, Beach Volleyball, Netball, and Rugby.
In Rugby, Canada's women's and men's U18 teams, led by Head Coaches Darcy Patterson and Nigel D'Acre, will play at Shaw Park Cultural Complex in Tobago from August 6 to 8. This article from Rugby Canada introduces the entire team and shares more about the coast-to-coast selection process. Here is a feature on one of the players.
---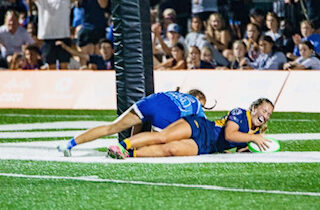 Originally from Victoria, BC, Adia Pye recently graduated from Claremont Secondary School and plays for the Castaway Wanderers. She will be studying science at University of British Columbia (UBC) in the fall.
Her first rugby exposure was an informal coed rugby game in grade five, and she joined Castaway in grade eight.
I've always played a lot of sports, but rugby stood out because of the community and contact
she explained. 
This is her first opportunity to officially represent Canada at an international sporting event, but last year she was able to attend the World School Sevens in New Zealand with BC Rugby. "This is a huge milestone, the biggest sporting event I've attended to date," Adia enthused.
Her gold medal at the 2022 Canada Summer Games and participation in World School Sevens helped her to get identified as a potential candidate for the CYG in Trinidad. "We found out we were longlisted and then had to send clips of us playing. We also had one tryout session with BC and Alberta, and they released the roster a few weeks later," Adia explained, who learned the news of her final selection for Trinbago 2023 in June of this year. 
She has worked very hard in preparing for the Games, with each week normally consisting of 4-5 days of fitness training, and 4-6 days of passing and kicking a ball and developing other on-field skills. She said,
During the school year, we practice twice a week and game day once a week. It's definitely a juggle at times, but I don't mind being busy with it, because it's something I love.
With rugby, she aspires to play on a senior women's sevens national team and to work toward the Olympics or a Rugby World Cup. This fall, she plans to play on the UBC varsity team and begin coursework toward a potential career in medicine.
For the Commonwealth Youth Games, Adia is most excited about meeting the whole team for the first time. Adia shared,
It seems like an awesome group of girls. In rugby, there's off-field time as well and the memories with your team stay with you for the rest of your life. [In past games], when we have down-time, we love exploring new cultures or hanging out together in hotels or dorms.
When asked what makes rugby unique, Adia was quick to reply,
Rugby builds a strong community. There's a position for every individual and every body type. It's a very inclusive sport.
Although competing in athletics has required sacrifice and flexibility with time management, she concluded,
[Sport has definitely helped me develop] a sense of compromise because not everything always works out like you want [it to], as well as collaboration and teamwork skills. It's such a team sport. All seven of you have to work together to have the most success.