The winners of this years Commonwealth Youth Awards were announced on March 11th. Among the winners was Canada's Sowmyan Jegatheesan, founder of Systema Naturae. Sowmyan chronicles his exposure to the Commonwealth and his win.
I live in Thornhill, Ontario and I received a Commonwealth Youth Award for building http://systemanaturae.org/. In my day job I work as a Data Scientist and I started working on this web platform back in 2015 with the help of volunteers, which collects datasets and projects related to wildlife and provides that for students, researchers and policy makers so they can work on conservation efforts, climate change and sustainable development. Today our web platform is one of the largest indexes of wildlife datasets.
The first time I heard about the Commonwealth was during the 2006 Commonwealth Games in Melbourne. As someone who grew up in India, I remember talking with friends back then about why was not played at the games in spite of being a popular sport across the Commonwealth. Subsequently, the Games themselves came to Delhi in 2010 and I applied to become a volunteer at the games unsuccessfully. As a keen enthusiast of world history, I have always been curious to learn the history of the Commonwealth and its progression into its modern form
In the second week of February 2020 I received a phone call from the Commonwealth Secretariat informing me of my selection as the finalist for the 2020 Youth Awards in the Canada and Caribbean region. I was thrilled and excited to learn the news and it took some time to realize what had just happened. There were 4 finalists for each region (Canada and Caribbean, Europe and Africa, Asia, Pacific), with one winner for each region. Of the four regional winners, a pan-Commonwealth winner would be chosen, who would also be the Commonwealth Young Person of the year.
To prepare the travel logistics, they broke the suspense and informed me I was also the winner for Canada and Caribbean Region and the first Canadian winner of the regional award. RCS Canada was one of the first to congratulate me when the selection was announced.
I was invited to London to celebrate Commonwealth Week 2020 as the winner of the Commonwealth Youth Award 2020 for Canada and the Caribbean. Extensive travel planning and logistics were undertaken by the Youth division of the Commonwealth Secretariat. The week started with the Westminster Abbey Service celebrating the Commonwealth Day on 9th March. The event is held annually and attended by HM The Queen, HRH Prince Charles, PM Boris Johnson, Commonwealth Secretary General Patricia Scotland, High Commissioners, and young people from across the Commonwealth bearing flags of each of the member countries. The Commonwealth Flag was carried by the Commonwealth Young Person of the Year 2019 Oluwaseun Ayodeji Osowobi from Nigeria and The Mace was carried by Darrion Narine from Trinidad and Tobago. Canada was represented by Flag Bearer Marnie Howlett from Saskatchewan, currently a PhD student from the London School of Economics.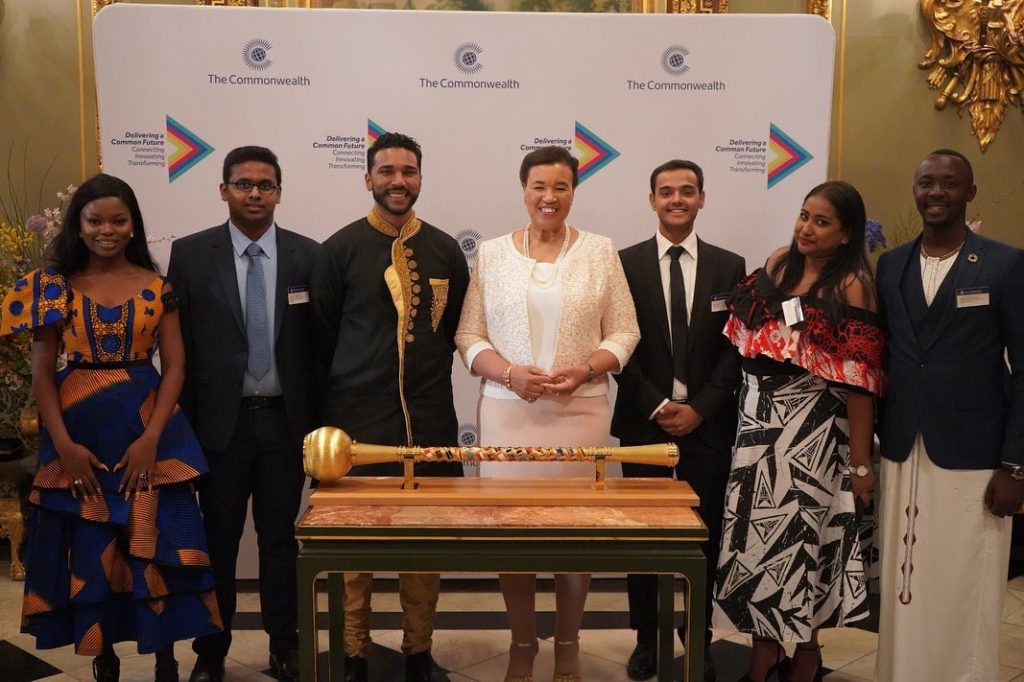 The evening of 9th March was the annual Commonwealth Day Reception. The reception was hosted by Baroness Patricia Scotland at the Commonwealth Headquarters at Marlborough House. This event was an opportunity for all Youth Award winners to meet with HRH Prince of Wales and HRH Duchess of Cornwall. During my brief conversation with Prince Charles, he advised me to take up more development work focused on ideas that I can find investors interested in and spoke about his new initiative, which he started at the Annual Meeting of the World Economic Forum at Davos, called the Sustainable Markets Council. I also met with other dignitaries, including the Canadian High Commissioner to the UK, Ms. Janice Charette, who was thrilled to hear that I was the winner.
The award ceremony was scheduled for March 11th at Marlborough House. The event was attended by High Commissioners and Senior representatives from different high commissions from across the Commonwealth. Sarah Fountain Smith, Deputy High Commissioner for Canada in the UK, and Elizabeth Stephen, Political Officer for Commonwealth Affairs at Canada House, both represented Canada at the event. The event had cultural activities and all four regional winners were announced, including:
For Asia, Hafiz Usama Tanveer from Pakistan won for a project for bringing clean water to poor communities.
For the Pacific Sagufta Salma from Fiji, with her initiative for transforming waste into sustainable furniture
For Africa and Europe, Galabuzi Brian Kakembo from Uganda, who also won the 2020 Commonwealth Young Person of the Year. Growing up in a poor community, on an island on Lake Victoria, Brian set up an enterprise to educate women and young people on turning waste into wealth. He has reached more than 800 women and young people, and 600 of them now make and sell eco-friendly briquettes made of plastic waste in Uganda.
Like all other winners, I was given a trophy, a cash grant of £3,000 and a framed certificate.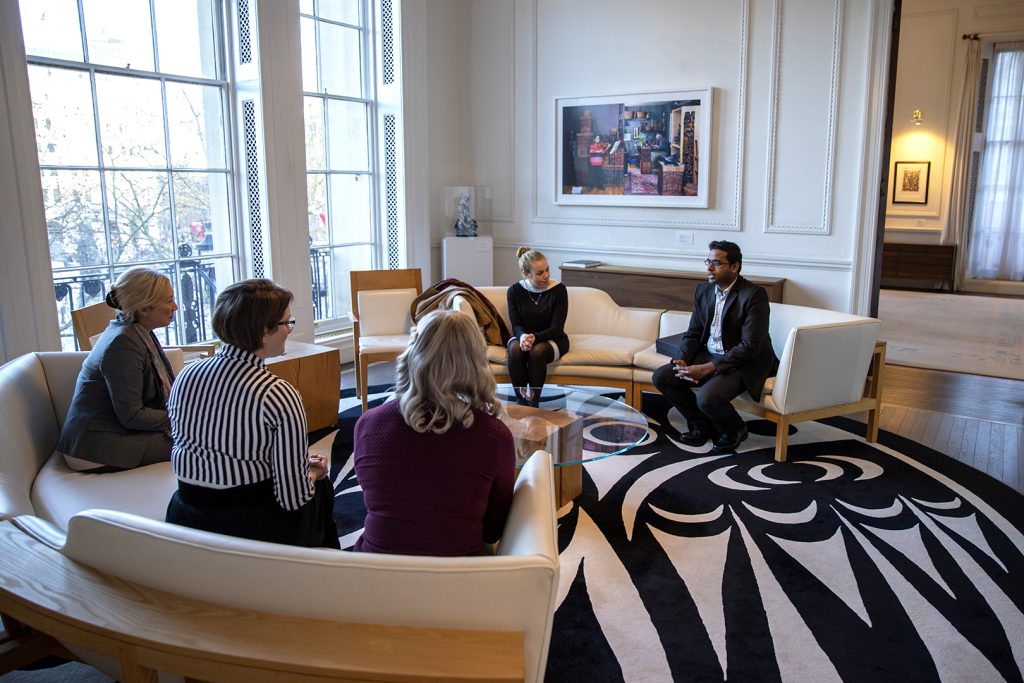 As anyone who has visited London, Canada House is iconic and located in the world famous Trafalgar Square, adjacent to The National Gallery. Marnie and I were invited to a personal tour of Canada House, and spent over an hour visiting the building. At the end, Sonya Thissen and Elizabeth Stephen presented gifts in honour of our work and engaged us in a conversation about both of our experiences during Commonwealth Week. The help and support I received from Canada House and Elizabeth in particular was significant; she helped me plan for the week in advance and made sure I was at ease and felt welcomed.
It was a great experience to be in London during Commonwealth Week and I hope in future many more young people from across Canada will take up socially minded projects and we will have a stronger collaboration at the Commonwealth level. It was an opportunity to meet with young people from other parts of the Commonwealth and also to share my experiences during the week. I will be engaging with them on future projects and hope to see a better and prosperous future.